Window Cleaning
Commercial Window Cleaning
Improve the view…with nice clean windows.
For Residential Window Cleaning  > Click Here.
Our specialized window cleaning technicians provide careful preparation of the work area to ensure thorough protection of furnishings and building infrastructure. Fully equipped with a complete range of professional window cleaning equipment, our technicians are then ready to make your windows squeaky clean.
Our window cleaning technicians follow safe work practices and we are a member of the Alberta Safety Construction Association. Satisfaction guaranteed.
Exterior and Interior Window Cleaning
Ladder, tucker pole, and lift window cleaning services
Specializing in low rise commercial and residential condominium window cleaning
Screen replacement
Truck unit power washing
Truck unit eavestrough cleaning
For a free Window Cleaning estimate please call (403) 291-1051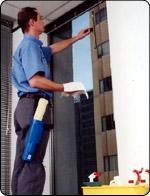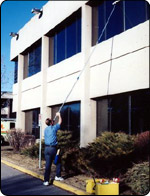 …and powerwashing
* Buildilng Exteriors       * Building Exteriors        * Warehouse Floors
* Inside Ceilings            * Garbage Chutes          * Parkades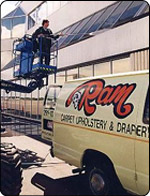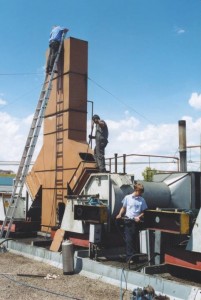 Quality And Safe Work Practises monitored and ensured by senior Qualtiy Control Staff. Careful Worksite Preperation and Post- Job Finish.
Power Washing and Window Cleaning in Calgary and area since 1967
Venetian and Vertical Blind Cleaning
When your blinds arrive at our plant, the first thing we do is to give them a thorough hand washing. This takes care of any caked on dirt.
Only then do we call on the ultrasounic cleaning machine to work its magic. By the time we've finished, even the cords come squeaky clean. Please give us two working days.
Pick up and Delivery and Cash and Carry Service available. We also clean luminettes, pleated shades, roller blinds, silhouette blinds, and wooden blinds
Drapery Cleaning
Our dry, heatless process uses biodegradable powders. It thoroughly, but gently, cleans even the most delicate fabrics. There's no possibility of shrinkage. We return and re-hang your drapes perfectly sized and pleated.
To sheers we apply a dressing that gives them form and shape. This also helps shield them from the effects of sunlight. Please give us four working days.
Blind Cleaning in Calgary and area since 1967