Flood Restoration & Water Damage
Flood Restoration & Water Removal
Emergency Water Removal, Mildew and Odor Control
Twenty four hours a day Ram emergency flood service technicians can be called on to handle the situation and start getting your home or business back to normal. We carry a large, powerful inventory of equipment needed to eliminate dank, musty odors, mold, and bring carpet and flooded areas back to pre-flood conditions as fast as possible.
A standard comprehensive Flood Restoration service includes:
Removal of flood water and related flood material, and the disinfecting of flooded areas to prevent mold.  We use truck mounted units to maximize the amount of water that can be removed.
Installation of airmovers, dehumidifiers, and inject-a-drys as necessary to make sure the flooded area gets dry fast, protecting contents and infrastructure.
Service checks utilizing moisture detectors to ensure effective progress of flooded areas.
Reinstallation of carpeted flooring as required.
Cleaning and deodorizing of effected areas.
We are a member of the Institute of Inspection Cleaning and Restoration and follow the IICRC's Standard and Reference Guide for Professional Water Damage Restoration.
Our flood service pricing is competively priced.  Flood control services can be provided either directly or through your insurance company.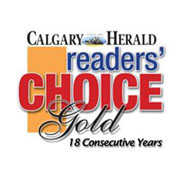 Quality Safeguards
All the strict quality safeguards you expect are in place including on-site inspections by our quality control staff.  Our flood restoration technicians are given comprehensive training and assessment before being dispatched to do flood control work.
Training includes classroom, video and DVD, WHMIS, and site field training with senior staff.  All flood restoration technicians are sent to a professional driving school for a driving assessment and upgrading.  All vehicles are radio equipped for efficient dispatch, and have GPS tracking to ensure our ability to make sure that our clients get value for their money.
Providing Flood Restoration and Water Removal Services to Calgary and Area since 1967